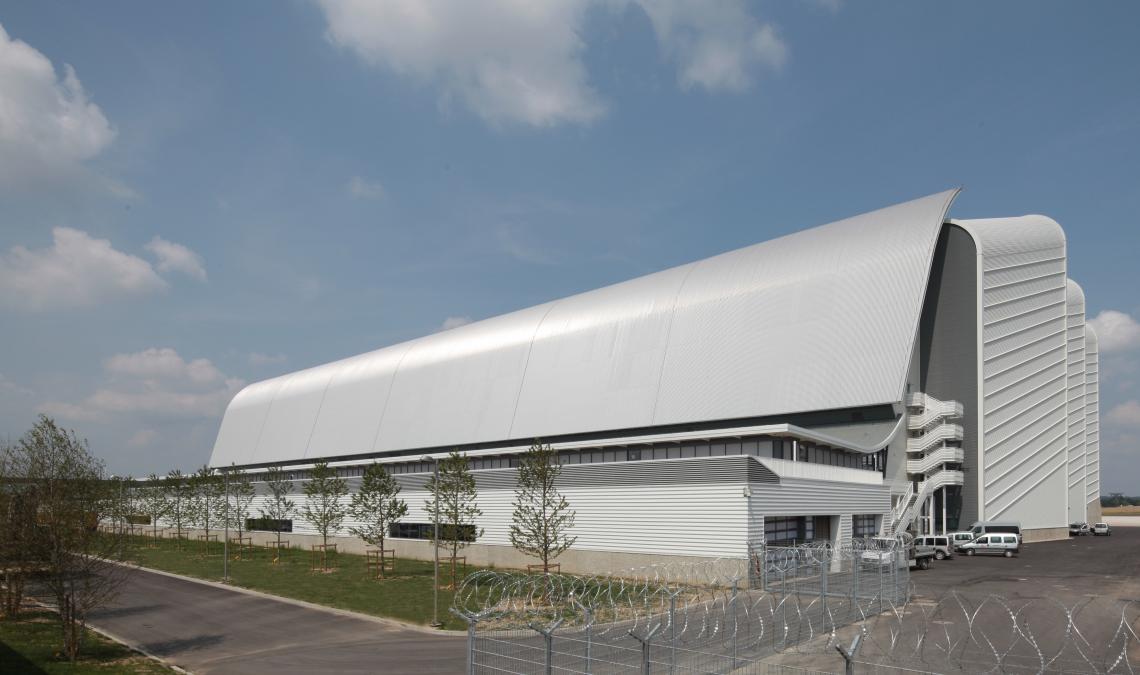 Client
Cargolux airlines international S.A.
Description
The structure of the aircraft hall consists mainly of four longitudinal lattice girders connected by cross beams. They are supported at their ends by the laced columns of the side façades and in their centre by a series of straight or Y-shaped light and elegant columns delimiting the two 98m-wide aircraft bays.
The predictable behaviour of the framework was particularly thoroughly studied to ensure that it would be compatible with the rheological and constructional principles of the nodes connecting the main framework components.
In addition to supporting the envelope components and taking up extra loads due to climatic conditions, the design for the hall framework had to take the five travelling cranes supported by the roof into consideration. These cranes can be fitted with a crane truck with a 15-tonne capacity or a 25-tonne teleplatform.
The framework was erected by assembling its constituent girders in succession using a crane and from the ground.
Most of the steel used is S355 grade, with the exception of the primary girders of the hall framework, which are made of S460 grade HD sections for the purpose of optimising steel weight and structural performance.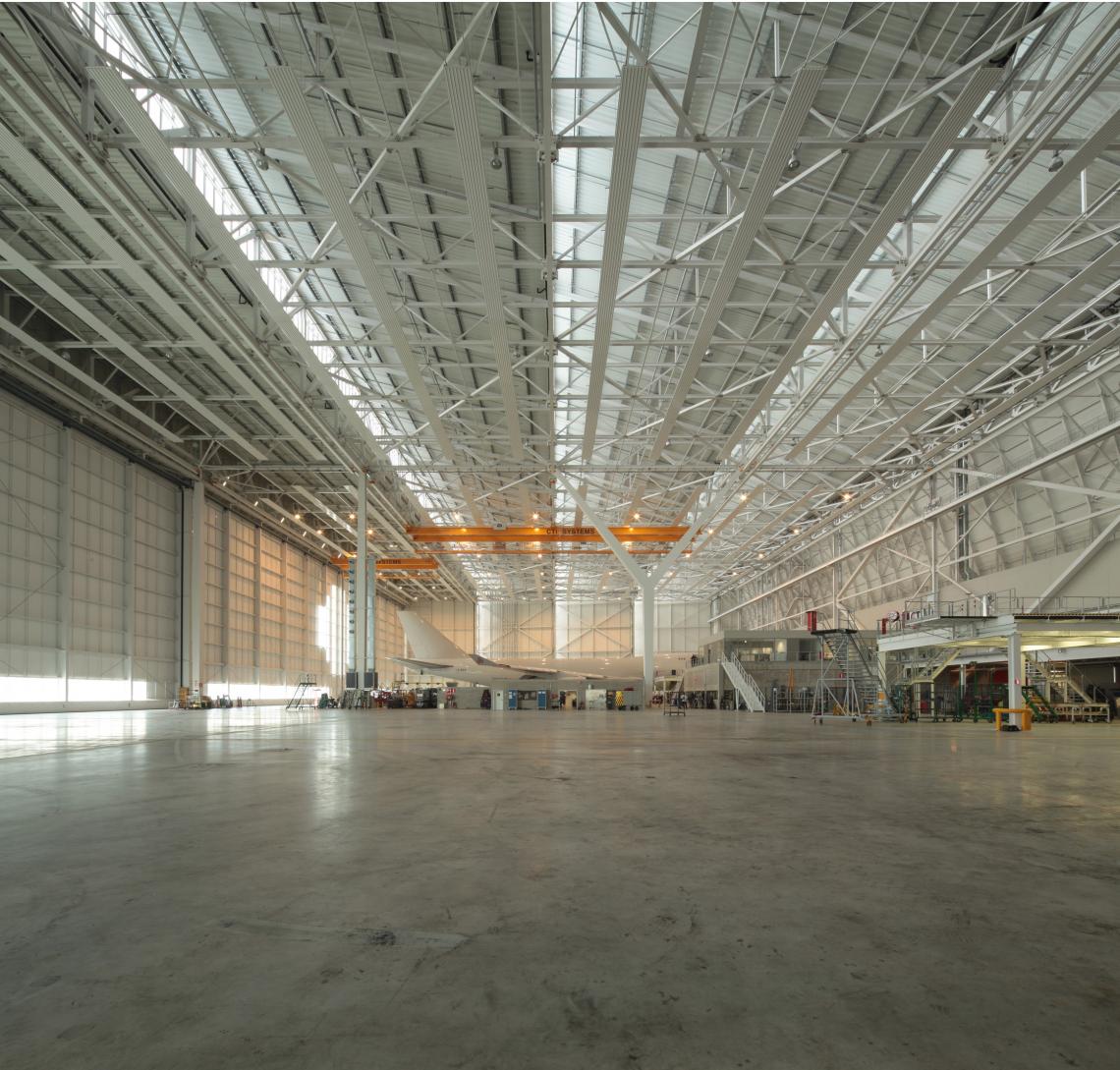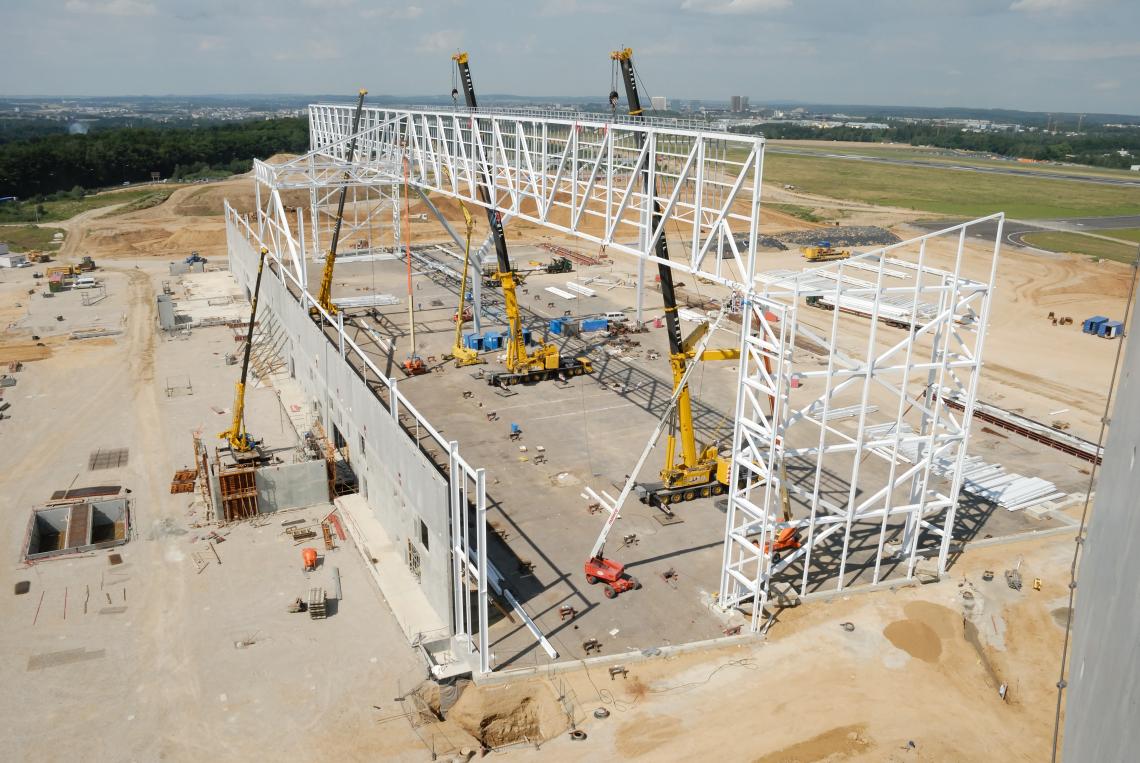 The new maintenance base operated by cargo airline Cargolux is located at Luxembourg-Findel Airport in Luxembourg. It is designed to be capable of accommodating two of the company's Boeing 747-400 or 800 aircraft simultaneously, or even two giant Airbus A380s.
The main building is mainly composed of the aircraft hall, with two levels of offices and various workshops required for aircraft maintenance operations backing on to it.
To make an architectural connection between the two parts of dissimilar heights, and manage the difference in scale between them in visual terms, a large metal wave extends along the south façade.
The dimensions of this hall are exceptional: it has a width of 196m, depth of 94m, internal height of 29m and external height of 42m. The total weight of the main building's steel framework is approximately 6000 tonnes.
Two large sliding doors measuring 94m long by 27m high open on to the runway, allowing aircraft to enter and exit the hangar.